Road transport prices in France rose again in December 2021, according to our Upply barometer. However, endemic inflation and capacity disruptions are increasing the risk of transport stagflation in France.
In France, economic activity returned to its pre-crisis levels in the third quarter and the 2021 recovery was solid. GDP should reach an average annual increase of 6.7% in 2021, according to the projections of the Banque de France.
Admittedly, GDP growth slowed in December. Two factors have somewhat disrupted the dynamic: on the one hand, supply difficulties, which have particularly affected the automotive sector; and on the other hand, the resurgence of the epidemic, with a global fifth wave and the emergence of the Omicron variant. Despite this, the economic impact remained moderate because the government chose not to enter lock-down, so as not to "break the trend" or jeopardise 2022.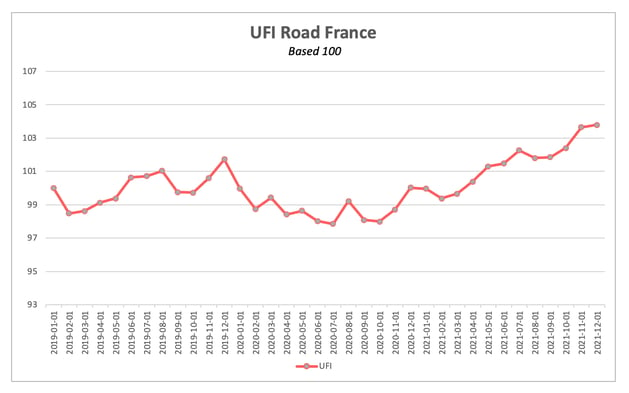 Source: Upply Freight Index, Road France
Under these conditions, road transport prices increased slightly by 0.13% in France in December 2021 compared to November, according to the Upply Freight Index (UFI Road France).
Yet this year, the month-on-month growth has been more measured than in previous years. Moreover, the UFI Spot Road France indicator, which measures the trend in spot rates in France, is even trending downward compared to November (-0.16%); this indicates a contraction in spot demand. This should certainly be seen as an economy which has started to see its acceleration slow down under the threat of Omicron and the supply difficulties encountered.
MORE INFORMATION
Please enter your details below to download the whitepaper: