In a market seriously affected by the COVID-19 outbreak, road freight transport rates in France appear to be frozen (+0.05% compared to February). A flat curve that hides acute disparities. The fall in demand and also that in supply are making prices danse around to reach unheard-of extremes!
Our monthly Upply barometer for road freight transport in France shows what appears to be unchanged price rates in March 2020, compared to February 2020. The situation looks like it has been a carbon copy of the previous month, it is almost as if the last week of March (first week of total lock-down due to the coronavirus epidemic), which showed a strong demand for the transport of critical products and a collapse for the rest, had not existed.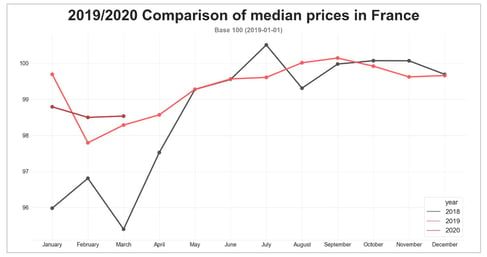 Source: Upply
Behind this deceptive curve are hidden, in truth, several notable facts.
Firstly, when we look at the number of transactions in our database, they show a sharp drop of more than 20% per week as of week 12. This unprecedented decline in the volume of transport carried by our partners shows just how much the market has collapsed in France. The business climate indicator published by INSEE (see graph at the end of the article) confirms the trend, with a fall of 10 points in just one month. Its October 2008 record, of a drop of 9 points when Lehman Brothers went bankrupt, has been broken. Services and retail trade have recorded the largest declines, at -14 and -13 points respectively. The repercussions on road freight transport are extreme, as shown by a survey carried out by the FNTR of its members. According to this study, "86% of companies are experiencing a total or partial shutdown of their activity and, on average, 59% of trucks are lying idle due to lack of orders".
Secondly, rates increased from week 12, but with lower volumes, so this incident has had little impact on the monthly total. This increase may seem paradoxical in an economic context that has deteriorated, but as the FNTR recalls, based on a CNR study on the impact of Covid-19 on the cost prices of RFT, the explanation is simple: the disorganization of traffic flows implies more deadheading mileage than the carriers can absorb in their pricing. As a result, April should be bullish.
Thirdly, we are witnessing a very singular phenomenon of stretching of freight rates in France: low prices are falling, and high prices are rising. For a limited fringe segment of the number of transactions recorded (20%), the whole situation implies that the protagonists have sought, in a calculated manner, to pull prices down for certain buyers and upwards for certain sellers. And this is how rates are being led on a merry dance during these times of crisis...
---
KEY INDICATORS

Source: Insee, CNR