BAROMETER. Road transport prices in France rose another 2.2% in July, according to the Upply Freight Index. They may now be approaching a peak, as the deteriorating economic situation is driving diesel prices and volumes down.
News reports in July were largely dominated by the heatwave. In line with an already excessively hot month of June, July 2022 presented a similarly abnormal difference in temperature of +2.3°C (compared to the period 1991-2020) and ranked 3rd among the hottest months measured during the post-war period.

Inflation is also overheating... According to INSEE's provisional estimate, made at the end of the month, consumer prices would have increased by 6.1% in July 2022 year-on-year, after +5.8% the previous month. As a result, the French economy slowed significantly in July.
All-time high
Despite this slowdown, road freight transport prices are still on the rise, with +2.2% growth in July compared to June. The mechanism of diesel indexation in fact generates an impact on prices with a one-month lag. Not surprisingly, the July freight rates therefore include the increase in diesel fuel recorded in June.
Over one year, prices rose by 16.5% in July, widening the gap between 2022 and previous years.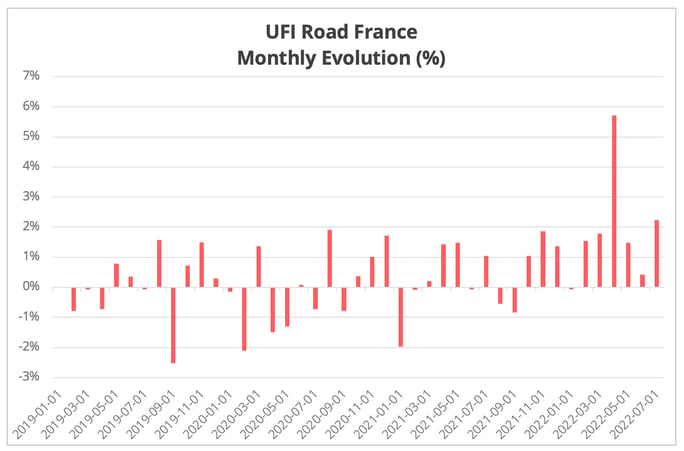 Source: Upply Freight Index – Road France
The average road freight rates in France in July flirted with the resistance threshold that we estimate at €1.700 per kilometre driven (...)