Ocean freight rates from Europe to Asia have leveled off a little following the steady upward trend of recent weeks, as is demonstrated by Upply data for the carriage from Rotterdam to Qingdao of a 40' HC dry, non-hazardous container, on a port-to-port basis, THC included.
What can be the explanation for the leveling off of the upward curve in ocean freight rates between Europe and Asia shown by Upply's data after several weeks of increase? Two factors are responsible. The equipment availability situation has returned to virtual normality for dry cargo (this is not the case for reefers). At the same time, shipping companies are struggling to obtain the payment of surcharges for "clean fuel", the price of which has plummeted.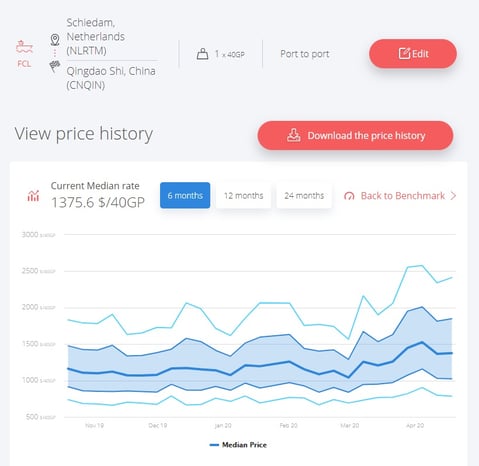 Source : Upply
Export rates should, normally, hold up during May and even rise a little. The gradual resumption of economic activity in Europe should see to this, given that space will be in relatively short supply in northern European ports after May 15 following the blank sailings from Asia which followed the Chinese New Year.
China is in ravenous mode. It is ready to put more money on the table to support recovery and strengthen social cohesion. Ideally, there would have been more sailings from Europe during this period to support a strong recovery in the form of a rebound rather than a soft recovery caused by shipping companies' deliberate and excessive reduction of capacities.