The cost of transport on the Rotterdam-Santos line has stayed robust in 2020 despite the Covid-19 crisis and unencouraging market fundamentals.
Despite the alarming situation in Brazil, where management of the Covid-19 epidemic has become increasingly controversial, the market is holding up for the moment. Ocean freight rates for 40' dry containers have shown a slight increase over the last three months and have finally turned out to be fairly stable in relation to their 2019 level, as is illustrated by the graph below.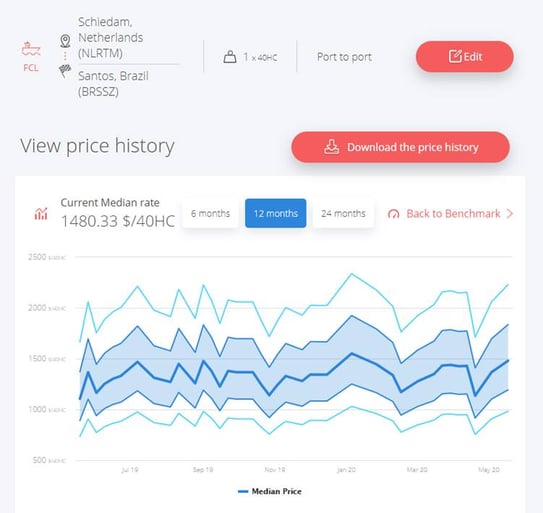 Source: Upply Solution "Compare & Analyze"
This classic North-South route was under pressure, however, at the start of the year, principally because of "nearshoring" projects planned by the European automobile sector. Clearly, these major industrial changes are carried out less suddenly than might have been expected. We have seen no major move to relocate to the Maghreb or eastern Europe. Although it is declining, the Brazilian automobile sector is still very much in business and is continuing to feed maritime trade flows.
Volumes of pharmaceutical products, which are carried in "reefers as dry", as well as classical reefers, are showing strong growth, clearly helped by the public health crisis. Shipping capacity is still being kept under tight control by the leading shipping companies in this market - the Maersk-Hamburg Süd-MSC consortium, Hapag-Lloyd and CMA CGM - and this has kept prices up.
The potential for further freight rate growth is limited, however, this summer, even if the companies concerned are clearly going to continue keeping a tight rein on space.