Our Upply data base shows a downward trend in ocean freight rates for the China-Mediterranean corridor. Access to capacity nevertheless remains problematic for small importing companies.
Two main factors are currently weighing on freight rates on the Asia-Europe Mediterranean corridor, as is illustrated by the trend registered in our Upply data base on the Shanghai-Fos route for a 40' HC dry container (see graph at end of article).
The cascade of cancellations carried out by the big shippers has slightly overtaken the contraction of available space. It is estimated that reservations are down 40%, whereas capacity on routes to the Western Mediterranean has been reduced by "only" 30%. This difference accounts for the announcement of further port call cancellations in April, as carriers try desperately to keep rates up.
It is becoming increasingly difficult for shipping companies to collect so-called "Marpol" and "Very Low Sulphur Fuel Oil" surcharges, given the collapse in the prices of these new "clean" fuels. Even if it is not always the case, a certain temporary correlation can be seen between Asian CIF spot markets and European FOB markets, which traditionally even out over the longer term in line with quarterly contracts with 4PLs (Fourth Party Logistics Providers), not to say the annual contracts concluded with major direct importers and shippers, notably in the retail sector.
The losers on the West Med are the small and medium-sized importers, who use the services of intermediate-sized forwarders who struggle to secure their freight flows because of a lack of visibility regarding space availability. This segment of the market, which does not have the resources to use trains or aircraft, risks becoming an easy prey for the biggest 4PLs, who have greater visibility over their slot allocations on ships in operation.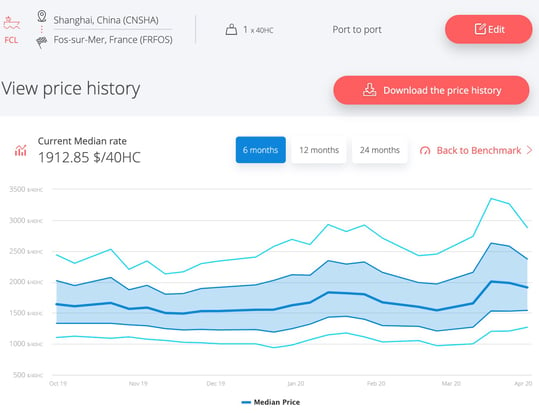 Source : Upply