SPECIAL FEATURE 3/5. Spain is experiencing a rapid development in e-commerce, particularly cross-border. This trend is conducive to the development of new logistics circuits.
With more than 26 million e-commerce consumers, Spain is considered as the fourth largest e-commerce market in the EU, following Germany, France, and Italy. Among these four countries, Spain has the highest percentage of online purchasing from non-EU countries. In light of this, we will discuss Spain's potential in cross-border e-commerce in this article, with a focus on trade with China.
Overview of the Cross-border E-commerce in Spain
The Spanish e-commerce market has grown rapidly in recent years, with electronics and fashion being the two largest sectors in terms of turnover (Figure 1). The gravitation towards online shopping amid the global pandemic led to a nearly 50% increase in e-commerce revenue in Spain in 2020.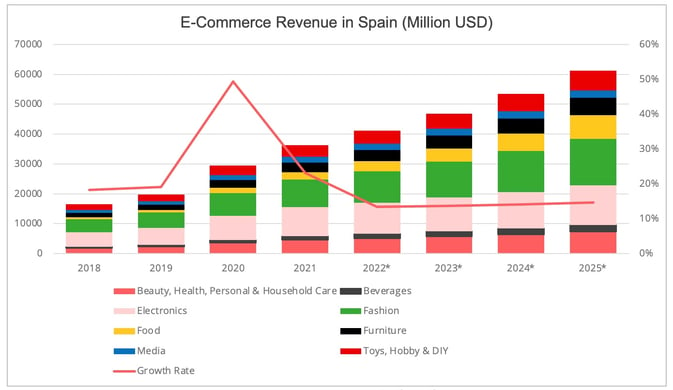 Figure 1 - Data Source: Statista
In 2021, for the first time in a decade, the proportion of individuals engaging in online purchasing in Spain surpassed the EU average (Figure 2), illustrating the rapid growth of the e-commerce market.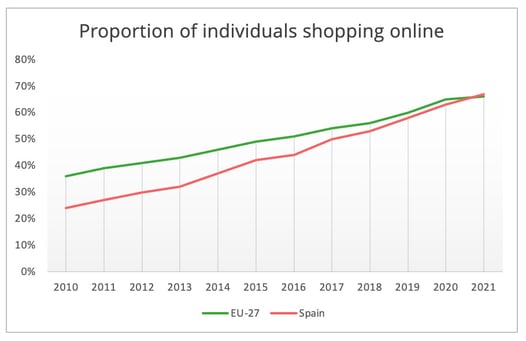 Figure 2 - Data Source: Eurostat
Among the main European markets, Spain stands out for its more animated cross-border e-commerce imports (Figure 3). According to Eurostat[1], one-third of the respondents who shopped online in the three months prior to the survey, purchased from non-EU sellers in 2021.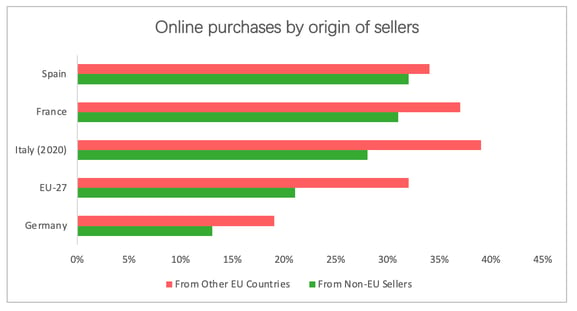 Figure 3 - Data Source: Eurostat[2]
Specifically, according to the International Postal Corporation, China and the UK have long been the two leading countries for cross-border e-commerce sales in Spain. In the past five years, Chinese cross-border e-commerce vendors have been gaining ground, whereas UK vendors are facing market erosion (Figure 4).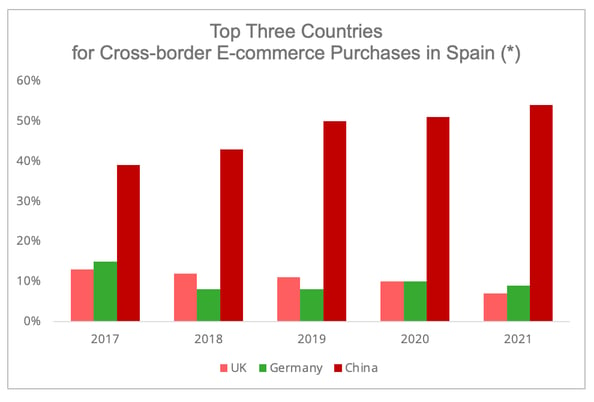 Figure 4 - Data Source: International Postal Corporation – (*) Purchases made by respondents in the last three months prior to the survey.
The UK's decline could be a result of the additional red tape and costs associated with Brexit. The popularity of shopping from Chinese vendors is due to the power of AliExpress, Alibaba's cross-border e-commerce marketplace, as one of the most visited e-commerce sites in Spain (Table 1).

Table 1- Data Source: SEMRUSH[3]
Spain is not only a promising import market. The country also ranks among the top 10 exporters to China in terms of cross-border e-commerce, according to the Chinese Ministry of Commerce. Food and cosmetics are among the high growth sectors.
China is currently pursuing a proactive policy of developing cross-border e-commerce by taking facilitation measures. It has recently extended the List of Imported Retail Goods for Cross-border E-commerce (Positive List) and is deploying a growing number of pilot zones dedicated to cross-border e-commerce (Figure 5). This strategy should be beneficial for Chinese demand for Spanish products.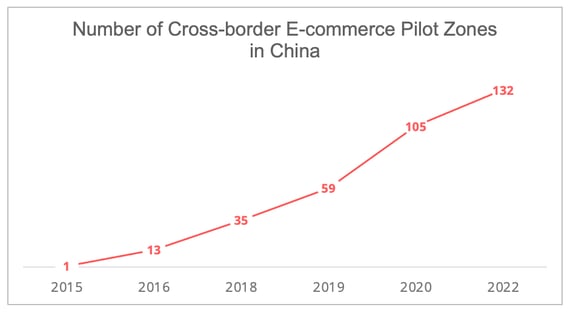 Figure 5 - Data Source: Data generated based on policy documents issued by the Chinese government
Localization at the heart of the logistics strategy
Cross-border e-commerce vendors and platforms have accelerated localizing their activities in the EU market in light of the global pandemic and the EU's removal of value-added tax exemption for international parcels under €22 since July 2021. By moving their fulfillment centres closer to end-consumers, this strategy shortens the delivery time and enhances the supply chain resilience. As Spain is a strategic market for Chinese cross-border e-commerce, one can clearly observe a phenomenon of localization of logistic activities there. This is primarily illustrated by the case of AliExpress, the main Chinese cross-border e-commerce platform in Spain. One key indicator is the expansion of its fulfillment centre in Madrid, from 5,000 sqm to 30,000 sqm.
Decidedly, the localization approach goes beyond locating fulfillment centres closer to end-consumers. It is also about optimising the overall urban logistics experience. For instance, in October 2021, AliExpress and Cainiao Network, the logistics arm of Alibaba Group, partnered with GLS Spain to offer a door-to-door order pickup and delivery solution for AliExpress sellers in mainland Spain. AliExpress will also significantly expand its network of automated lockers in France and Spain, with a target of 2,000 units and the expansion of the number of cities covered in 2022. By 2021, the company had 170 lockers in Spain (Madrid and Barcelona) and 80 in France (Paris).
The localization effort can also be seen through Alibaba's increased recruitment in Europe, including staff to develop end-to-end logistics solutions for cross-border e-retailers in the Spanish market.
Increased Intra-EU Airfreight
The new localization strategy is leading to a transformation of the organization of international parcel transport from a B2C to a B2B2C model. This change is synonymous with new intra-European air freight flows between the regional distribution hubs and the various markets, and in this particular case between Liège airport, AliExpress' European logistics hub, and Spain.
Since Alibaba decided to make Liege its regional hub at the end of 2019, air cargo between the Belgian airport and Spain has seen double-digit growth. From 2019 to 2021, inbound cargo to Spain has increased by 79%, and outbound air cargo from Spain to Liege has grown by 76%. This growth can be seen as a reflection of the dynamic cross-border e-commerce activity between China and Spain.
Even though the inbound and outbound flows remain unbalanced between Liege and Spain, the surge in outflows from Spain to Liege is striking. Spain therefore stands out from the other main EU destinations linked to Liege airport (Figure 6).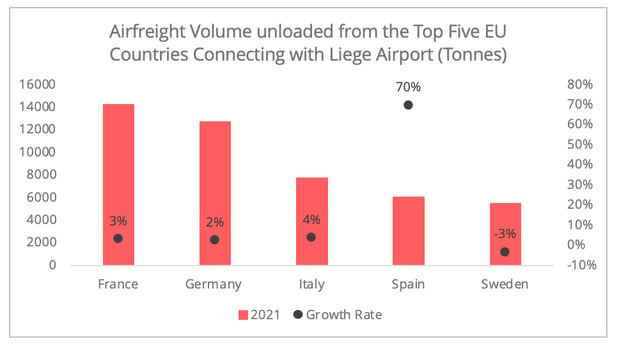 Figure 6 – Data source: Eurostat
The volume of air freight recorded in the first three quarters in 2021 from Spain to Liege already exceeded the total volume of 2020. In particular, there was a peak in the third quarter of 2021 (Figure 7), before the major Chinese shopping holidays, which may indicate an increasing appetite of Chinese consumers for Spanish products via e-commerce channels.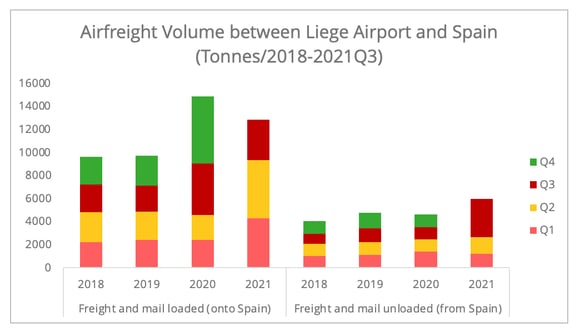 Figure 7 - Data source: Eurostat
Localization in the Chinese Market
Localization is also at the heart of China's cross-border import e-commerce strategy. In the 2022 Chinese cross-border e-commerce positive list, 11% of the items are listed as "online purchasing bonded warehouses only[4]", meaning products must adopt a B2B2C model (via bonded warehouses) and not B2C. The majority of these products are agricultural and food products.
In 2020 and 2021, the Spain-China trade via the bonded warehouse model has presented a 6% growth rate, lower than the around 20% growth of China's overall imports from Spain (Figure 8). One reason for this difference is that the growth is mainly due to the increase in Chinese demand for pork, which is not on the positive list[5]. Therefore, such a surge in Chinese imports from Spain is unlikely to be transformed into cross-border e-commerce imports.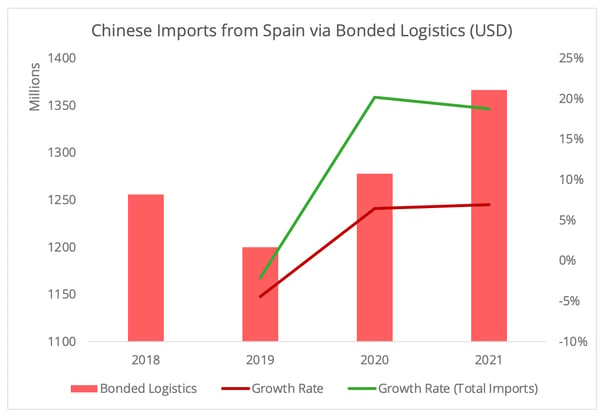 Figure 8 - Data Source: China Customs[6]
Looking Forward
China has made the development of cross-border e-commerce a strategic axis of its economic policy. The case of Spain can be used as a reference to explore logistics opportunities in a wider European context, such as France, another key AliExpress market. Of course, the current war between Ukraine and Russia, as well as the latest massive lockdown in China, introduce uncertainties about development prospects.
Logistics Operation Disruption
As 80% of the cross-border e-commerce relies on air freight, such activity between Asia and Europe could be hit hard by the disruption caused by the mutual closing of airspace between the EU and Russia and the massive cancelation of flights in China due to the surge in Covid. Specifically, it is having a triple shock effect on cross-border e-commerce: reduced air freight capacity, longer transit times due to detours and higher freight rates due to high energy prices and tight capacity. This could be particularly damaging for Chinese vendors, since one of their key competitive advantages is price.
The impact of disruptions to rail freight, on the other hand, is expected to be relatively minor, due to the marginal share of this mode in cross-border e-commerce, despite China's efforts to develop integrated solutions between rail freight and cross-border e-commerce in recent years. However, this could help Cosco's new Land-Sea Express service, a multimodal alternative between China and Spain that uses ocean freight to Valencia and then rail freight within the Iberian Peninsula. This is in expansion, following the success of the first Land-Sea Express service connecting China to Central Europe via rail from the port of Piraeus. This service handled 153,000 TEUs in 2021, with an annual growth of 25.2% compared to 2020.
Indeed, it is still difficult to assess how much the current disruption could lead to long-term changes. A study by the Kiel Institute for the World Economy estimated that trade restrictions with Russia could lead to a 0.22% loss to Spain's GDP. The overall economic shock and potentially exacerbated inflation could lead to more conservative consumption behaviour and restrained shopping capacity, including cross-border e-commerce.
The Rise of the D2C (direct-to-customer) Business Model
So far, our discussion has primarily been focused on the cross-border e-commerce via third-party marketplaces. However, it is worth noting the rise in the D2C model, which does not rely on marketplaces such as Amazon, AliExpress, or eBay. SaaS solutions such as Shopify have largely simplified the procedures to operate e-commerce websites. The number of e-merchants on Shopify almost doubled from 2019 to 2021 (Figure 9), and the EMEA region (Europe Middle East Africa) accounted for 25% of the total in both 2020 and 2021. The 18% increase in the number of merchants from EMEA further confirms the emergence of the D2C model in Europe.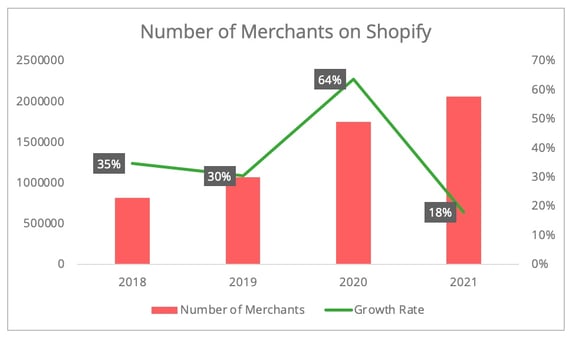 Figure 9 - Data Source: Shopify Financial Reports 2018, 2019, 2020, 2021.
This is also applicable to the Spanish market. While e-commerce platforms remain the dominant option in Spain, a survey conducted in 2020 indicates that 46% of the respondents in Spain considered D2C as the next trend in e-commerce. The policy support to digitalize SMEs can further encourage the adoption of the D2C model. One goal of the SME Digital Plan launched by the Spanish government in 2021 is that at least 25% of the turnover of these small and medium-sized enterprises should come from e-commerce by 2025.
Regarding cross-border e-commerce between China and Spain, there is undeniable Chinese policy support in promoting the D2C model in cross-border e-commerce export, including subsidy provisions by some local authorities. Most large Chinese D2C shops currently focus on the US market, especially in the fashion and consumer electronics sectors. The growing policy support is likely to encourage Chinese D2C vendors to expand their presence in the European market.
Aligning with this trend, the growth of the D2C model in Europe can stimulate new demand for digital and sustainable one-stop logistics solutions tailored for small cross-border D2C sellers. While the establishment of regional logistics centres can improve the competitiveness of large cross-border e-commerce vendors, small and medium D2C vendors have rather limited financial and human resources to operate fulfillment centres in foreign markets or to adopt other localization strategies on their own. Furthermore, they are also more vulnerable to the shocks brought about by the current geopolitical turbulence. This presents opportunities for digital logistics companies, which are among the first to fulfill the market niche. For instance, ShipBob, a US-based unicorn company featuring D2C logistics solutions, plans to establish 20 fulfilment centres in Europe by 2023, echoing the growing D2C market in this region.
---
[1] This refers to the surveyed period of time. However, Eurostat did not specify when the survey was conducted in 2021.
[2] Italy's 2021 Data is not available, so here we use the 2020 data as a reference.
[3] There are different rankings. This rank corresponds to annual revenue rankings of e-commerce websites in Spain in 2021 conducted by another data provider.
[4] A bonded warehouse is a warehouse operated in the designated area under the regulatory supervision of China Customs, allowing to defer the payment of customs duties.
[5] The positive list includes some types of pork products, but not the category that generates the most increase in Chinese imports from Spain.
[6] Here the trade data via bonded logistics is compiled using data from two customs regimes: Customs Warehousing Trade and Entrepot Trade by Bonded Area provided by China Customs. For a detailed illustration of the differences between these two, please check this link. Trade via bonded logistics does not equal the trade volume via cross-border e-commerce. However, the statistics here may serve as a reference to indicate the trend.