The air freight market has begun a difficult year. In January 2023, the fall in cargo volumes and the increase in transport capacity caused freight rates to drop.
As expected, the world air freight industry has clearly entered a new zone of turbulence. According to the data published by the International Air Transport Association (IATA), global demand in cargo tonne-kilometres fell 14.9% year on year in January.
Air freight volumes fell for the 11th consecutive month on a year-on-year basis. We could be tempted to downplay this result by recalling that January 2022 was still marked by the powerful post-Covid recovery process, but we have to recognise that there was also a marked reduction in volumes by comparison with the pre-pandemic period. Volumes were 11% down, compared to January 2019.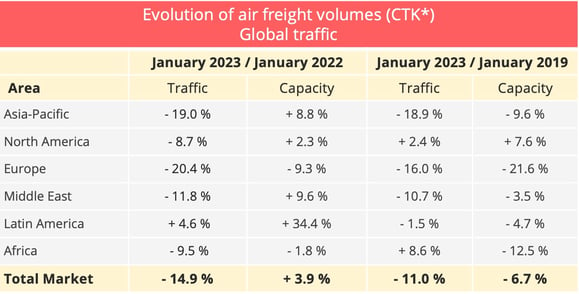 *CTK : cargo tonne-kilometres - Data source : IATA - @ Upply
Asian and European carriers worst affected
International traffic, which represented 87% of total air freight traffic, suffered an even sharper reduction than domestic traffic, with volumes down 16.9%. Asian and European carriers turned out to be particularly exposed.
European carriers suffered the greatest fall in volumes, which were 21.1% down year on year and 16.8% down on their January 2019 level. Both traffic and capacity were heavily marked by the war in Ukraine, with capacity down 20% on its pre-pandemic level.


Asian-Pacific carriers also suffered a marked decline in volumes. "Airlines in the region continue to be impacted by lower levels of trade and manufacturing activity and disruptions in supply chains due to the residual effects of COVID restrictions that were imposed by China," IATA said. Comparisons between January 2023 and January 2022 are also affected by the dates of the Chinese New Year, which means an automatic fall in activity levels in China and the Asia-Pacific region. The new year fell in January this year, whereas it fell in February in 2022 and 2019, distorting year on year comparisons as a result. Conversely, the reopening of the Chinese market following the country's abandonment of its Zero-Covid policy should "gradually benefit global trade and the growth of air cargo demand in the region as capacity picks up," according to IATA.


On the other hand, North American air transporters, who account for 18.4% of international air freight, behind their Asia-Pacific counterparts with 29,7% and on a par with Europe, did fairly well. Their January 2023 traffic total was ahead of the January 2022 total. Only African and Latin American companies can claim to have done as well but theyn operate on much smaller markets.
Middle Eastern companies, which rely a great deal on the region's role as a hub, also suffered from the disruption of world trade and the war in Ukraine, but to a lesser extent than carriers in the front line.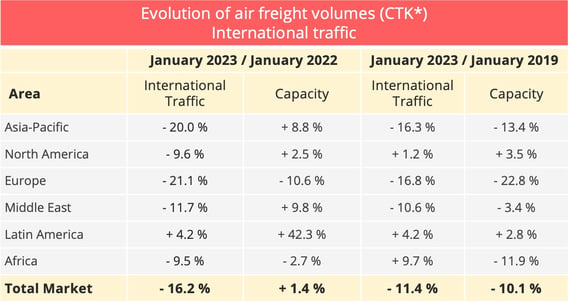 *CTK : cargo tonne-kilometres – Data source : IATA - @ Upply
Impact on freight rates now clear
Whereas demand contracted, capacity increased by 3.9% and by 1.4% in the international sector alone. "This was also the first year-on-year growth in ACTKs (available cargo tonne-kilometres) since October 2022," IATA noted.
The increase is linked to the growth in available capacity in the holds of passenger aircraft. "In January 2023, international ACTKs for belly cargo grew 50% over 2022 capacity and reached 71% of their 2019 level. In contrast, dedicated cargo international capacity declined by 11% year-on-year," IATA said. Overall, the global load factor fell 9.3 points in January 2023 to 44.8%.
This reduction in load factor naturally generated pressure on prices. Upply's data, which takes account of both contract and spot rates, shows that there was a general reduction in January 2023 from one month to the next. Only the Europe-Asia route showed some resistance, but conditions on that route are very particular. The war in Ukraine has great affected capacity, particularly via its impact on certain Russian companies. At international level, the European companies registered a load factor superior to that of the Asian companies, which are traditionally the market leaders in this respect, for the first time.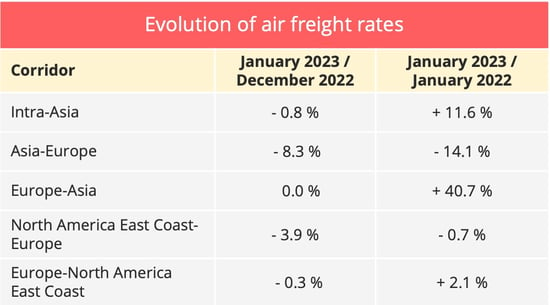 Data source: Upply
Economic disruption but with some signs of hope
The air freight industry's difficult start to the year reflects the currently morositry of the global economy. Growth is expected to slow in 2023 in most of the world's leading economies. "High inflation will continue curtailing purchasing power, dampening consumption and global trade," IATA said. "These impacts are worsened by currency depreciations relative to the US dollar, which increase the local currency price of commodities invoiced in US dollars." Among the sources of uncertainty, the association pointed to the volatility of fuel prices and the war in Ukraine, which it said "remains the greatest geopolitical risk to the global economy". In December 2022, world trade in goods fell 3% - its second consecutive monthly fall.
Some positive signals can nevertheless be seen. "The global new export orders component of the manufacturing PMI, a leading indicator of cargo demand, increased in January for the first time since October 2022," IATA noted. "For major economies, new export orders are growing, and in China and the US, PMI levels are close to the critical 50-mark indicating that demand for manufactured goods from the world's two largest economies is stabilizing.
At the same time, consumer price inflation in the G7 countries is tending to fall (it stood at 6.7% year on year in January), as is production price inflation.
The slowdown in inflation and the signs of a recovery in export orders can be taken as reasons for hoping for a recovery in demand for air freight in the months to come. At the same time, pressure on purchasing power remains very strong. Moreover, the sector can clearly no longer count a reduction in the competitiveness gap between it and the shipping industry. On certain trade lines, particularly that between China and Europe, ocean freight rates have returned to their pre-pandemic level. Like their shipping counterparts, therefore, the air cargo divisions of the classical airlines and the dedicated air cargo companies are going to have to go back into crisis management mode.