BAROMETER. Road transport prices in France slowed down in January 2023, as in the previous month, according to the Upply Freight Index. Inflation, economic depression and social protest are the ingredients of the bitter cocktail of this beginning of the year.
According to the World Bank's latest Economic Outlook, growth in 2023 will stall sharply due to inflation, rising interest rates, declining investment and disruption caused by Russia's invasion of Ukraine. The Eurozone will be particularly exposed, with a GDP growth projection of only 0.5%, compared to 1.7% globally.
Reduction in business support measures
In addition, EU and G7 member states have adopted new price caps for Russian oil products transported by sea, such as diesel and fuel oil. This is the third sanction adopted by the EU. It further feeds the threat of continuing increases in fuel prices.
States are attempting to mitigate the effects of this volatile environment by introducing or extending business support measures. In France, VSEs (companies with less than 10 employees with an annual turnover of less than 2 million euros excluding taxes) will for example be able to benefit from an energy price cap which limits the increase in the price of gas and electricity to 15%. Deferrals in the payment of taxes and social security contributions are also possible. On the other hand, fuel rebates for road hauliers ended on 31 December 2022.
January therefore seems to confirm the ongoing scenario triggered since the 2020 pandemic, of global inflation and local protection, with a major nuance: the end of the policy of "no matter what the cost".
Falling prices confirmed
Against this backdrop, the prices of road freight transport in France continued to fall. In January 2023, the Road France Upply Freight Index contracted by 1.9% month-on-month. This is the fourth fall in the last five months, reflecting an overall decline in the market (...)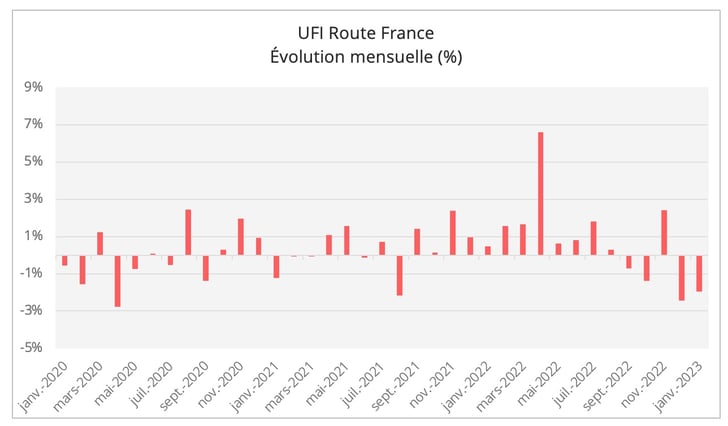 Source: Upply Freight Index – Road France
CONTENTS:
Falling prices confirmed
A traditionally quiet month
Economic depression or not?
The business climate in decline
A social issue concerning the "CFA" (end-of-career leave)
Key indicators