INFOGRAPHICS. Container traffic at the world's leading ports during the first half provided clear evidence of the sharp reduction in Western demand. The fall in traffic was particularly marked at ports in the United States.
1/ The leaders
The economic slowdown, which began in 2022 is still in progress and the first half container traffic results of the world's leading ports provides fresh confirmation of this. Chinese ports are virtually the only ones to show positive results, even though the country's economic recovery, following its abandonment of its Zero-Covid policy, was less strong than it had hoped. European ports, meanwhile, are struggling and the fall in traffic at US ports has been even more severe.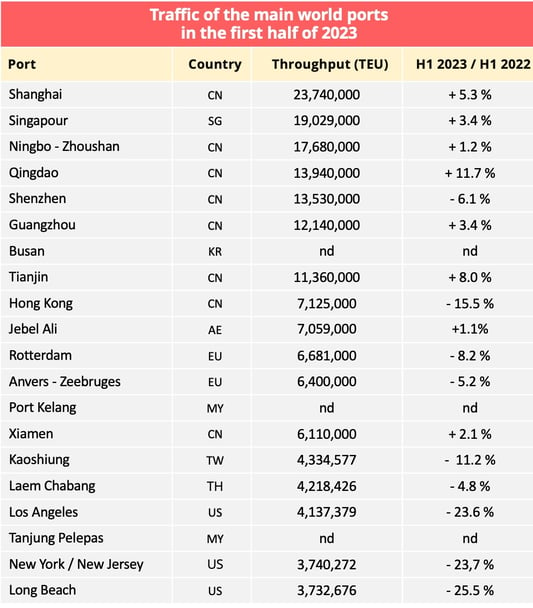 Data sources : port press releases, transport ministries.
2/ Chinese ports
China, which has seven ports in the world top ten, has published traffic results which are largely positive. In continental China, only Shenzhen saw its traffic fall. Overall, the 10 leading Chinese continental ports handled 130.1 million TEU in the first half of 2023 (H1 2023), 4.2% more than in the first half of 2022 (H1 2022).
This increase is surprising, given that the country's economic recovery, following the abandonment of its Zero-Covid policy, has been slower than expected. It can be explained certainly by the fact that port activity was heavily disrupted and even paralysed by strict lockdowns, with the result that traffic throughput was much lower than normal. The figures published by the Chinese Ministry of Transport surprised many observers nevertheless. "The gap between China's (economic) performance and the largely negative results of Western ports has raised doubts," said Upply container shipping expert Jérôme de Ricqlès. "Certainly, China may have found growth outlets in the intra-Asian trades and in the Indo-Pacific zone more generally, but this is not enough to explain a gap of this size."
Traffic through the port of Hong Kong bears the marks of the slowdown in world trade more than its mainland counterparts, moreover, with a 15.5% reduction, which is much closer to the reductions in traffic recorded at European and US ports.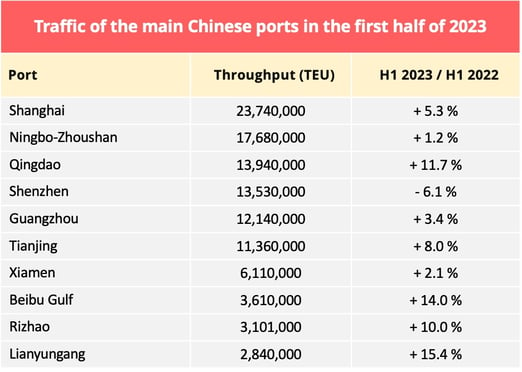 Data source : Chinese Ministry of Transport.
The top ten Chinese ports in H1 2023 are the same as they were in H1 2022. Qingdao recorded an 11.7% increase in throughput, which enabled it to replace Shenzhen in third position. The ports of Beibu Gulf, Rhizao and Lianyungang also recorded double-digit growth rates took it into third position, as Beibu Gulf and Rhizao continued to show the same strong growth, as they pursued the growth they showed in 2022.
3/ US ports
In the United States, container traffic fell sharply in most of the leading ports. The combined results of the 10 leading ports showed a reduction of 20% to 21.7 million TEU. Apart from Houston and Jacksonville, all reported a double-digit fall in throughput.
In the first half of 2022, growth was hampered at west coast ports by congestion, which prevented ships from berthing. This year, however, the fall at Los Angeles and Long Beach is the result of a shortfall in cargo. Last year, the port of New York was able to take advantage of the operating difficulties on the west coast, recording a strong increase in full import containers. Over the year as a whole, it even replaced Long Beach as the second-ranking US container port. In the first half of 2023, it just managed to retain its number two position but throughput slumped all the same. Full import containers were down 24.5%, while export containers dipped by a more modest 2.1%.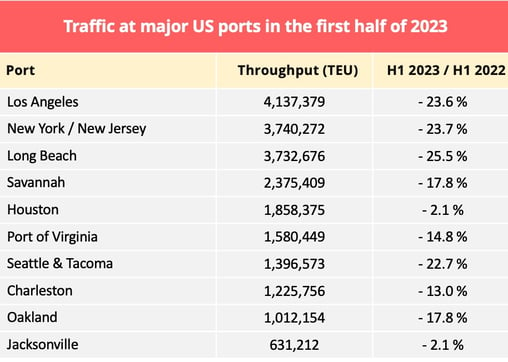 Sources : port authority press releases.
4/ European ports
Among the European ports, the fall in traffic was less severe than among their US counterparts but there was nevertheless a marked decline. Number one European port Rotterdam saw its traffic total fall back to below seven million TEU in S1 2023. "There are two principal reasons for the decline in container throughput," the port said, "the termination of volumes to and from Russia and the fall in imports from Asia." The same goes for a number of ports in the North Europe range. Antwerp-Zeebrugge, which saw its traffic fall 5.2%, resisted the downward trend fairly well, as did Rotterdam, compared to the performances of the other ports in the European top ten and those of the German ports in particular. The latter were particularly exposed to the impact of the Russian-Ukrainian conflict on the Germany economy, as well as to the weaker than expected recovery in the Chinese economy.
The port of Hamburg suffered an 11.7% drop in traffic in the first half. China remained its main trading partner by a long way, with 1.1 million TEU handled over the period, but this was markedly lower than the 1.3 million TEU total it achieved in H1 2022. The United States remained its second biggest trading partner, with a traffic total up 7.4% to 313,000 TEU in the first half. Singapore, Poland and Sweden were its other top trading partners but their traffic totals were all down. The port was pleased, however, by its traffic result in Central America (+6.3% to 108,000 TEU), India (+ 9,3% to 99,000 TEU) and Canada (+ 6,7% to 95,000 TEU). "Especially against a background of mounting uncertainty and global upheavals, we aim to establish close trading relations with a broad spectrum of partner countries," said Dr. Melanie Leonhard, the Hamburg senator in charge of economic affairs, when she presented the port's first half results in late August. "Increased dialogue with North and South America, along with India as a significant growth market, is a highly promising indicator in that context". The second-ranking German port, Bremen-Bremerhaven, suffered an even sharper fall in traffic in the first half, after having already seen traffic fall 8.8% in 2022.
Spanish ports registered a combined traffic total of 8 million TEU in H1 2023, down 7.8% on the previous year. Algeciras succeeded in limiting the damage. International transhipment traffic, which represents 70% of all traffic, dipped 2.7% but this was almost made up for by growth in national transhipment traffic and a slight increase in import-export traffic. Number one Spanish port Valencia suffered a marked decline in traffic throughput, however, as it was affected like its European counterparts by the economic slowdown and geopolitical developments. China was its main trading partner with a traffic total of 268,512 TEU, ahead of the United States with 178,824 TEU. Strongest growth was with Vietnam (+28%), Egypt (24%), India (+15%) and Mexico (+12%). Third-ranking Barcelona, meanwhile, suffered a double-digit drop in throughput.
Among the French ports, Le Havre's traffic total fell sharply. In additional to the economic and geopolitical situation, it was penalised by industrial action over the French government's proposed pension reform. Container traffic declined in similar proportions at Marseilles-Fos, where throughput declined 15% to a little under 700,000 TEU.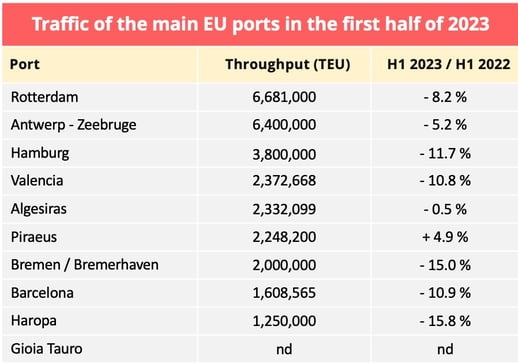 Sources : port press releases except (*) ; (*) source : COSCO Shipping Ports.