Prices soaring as demand collapses? This improbable state of affairs continued in the air freight industry in April 2020 as capacity continued to contract more than demand. According to our Upply data, however, the increase in freight rates seemed to start to slow down in the final week of April.
The worldwide air freight industry suffered a 27.7% drop in demand in April compared to the same month in 2019. "This is the sharpest fall in the history of our industry," the International Air Transport Association (IATA) declared, noting that the reduction was even greater than the 23.9% drop recorded in January 2009 during the global financial crisis. The Covid-19 lockdown measures caused serious disruption to manufacturing output and consumption in numerous parts of the world. On a seasonally corrected basis, the April reduction comes down to 17.6%, following a moderate seasonally corrected 3% fall in March and a sharper 15.2% fall in absolute terms.
Geographical variations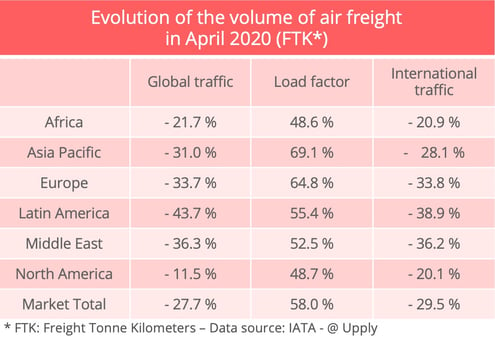 A closer looks at the three main regional markets show some variations, however. Asia-Pacific and Europe, which respectively represent 34.6% and 23.6% of the world air freight market, registered reductions of more than 30%. In North America, on the other hand, demand fall only 11.5% even though the region represents 24.3% of the world market. We are a long way, therefore, from the 32.3% reduction recorded on the North American market during the financial crisis in April 2009. Demand was kept up in North America by domestic traffic, while, on the international segment, the reduction was limited to 20.1%. The big Asia-North American market, in particular, suffered a smaller 7.3% reduction because of the increase in movements of personal protection equipment (PPE), according to IATA. In April, therefore, North America was the IATA zone least affected by the fall in demand, followed by Africa, which was also relatively less affected.
The Middle East, which represents 13% of the world market, suffered much more heavily. "Even though several carriers in the region maintained some cargo capacity, traffic on all the key cargo routes was muted in April," the IATA observed. As a major transit zone, the Middle East was unable to count on a local market to keep traffic flows up a little.
Finally, Latin America was the sad record holder in terms of market collapse, with a 43.7% drop in demand. "The COVID-19 crisis is particularly challenging for airlines based in Latin America," said IATA, "owing to strict containment measures and a lack of support from Governments to keep cargo moving."
Capacity plummets
As in March, the collapse in market demand did not lead to a fall in prices. On the contrary, since available capacity worldwide, expressed in tonne-kilometers, fell even more sharply than demand. Capacity contracted 42% in April 2020 compared to April 2019 and 40.9% for international traffic alone. The big reduction in the number of passenger flights cause a 75% drop in hold capacity on the international market which was only slightly compensated by a 15% increase in capacity resulting from greater use of all-cargo aircraft.
The cargo load factor showed an increase of 11.5 points in April. This has never been seen since the indicator came into, according to IATA. "There is a severe capacity crunch in air cargo," said IATA director general Alexandre de Juniac. "Airlines are deploying as much capacity as possible, including special charter operations and the temporary use of passenger cabins for cargo".
Freight rate increase unprecedented
This phenomenon is considerably disorganizing world supply chains, which are suffering from both longer delivery times and higher costs. According to our Upply data base, air freight rates on the Asia-Europe route are showing a 40% increase over April 2019 and a 9% increase over March this year. The Europe-Asia and Europe-Middle East routes are showing similar trends. On the Europe-North America route, in both directions, the increase in freight rates in April 2020 year on year is over 60%. And on this market, there has so far been no sign of any slowdown.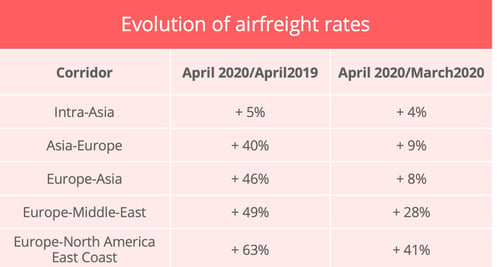 Source : Upply
Freight revenues expected to increase 30%
According to IATA's latest forecast, published on June 9, freight volumes will fall 10.3 million tonnes to a total 51 Mt in 2020. But taking account of the increase in freight rates, cargo turnover should increase by about 30% to $110.8 billion, compared to $102.4 billion in 2019. The air freight industry will thus come close to its all-time record and contribute some 26% of all air transport revenues globally, compared to 12% in 2019. It should be said, however, that passenger revenues are expected to be reduced by half this year to a total $419 billion. IATA estimates that the air transport industry's worldwide losses in 2020 are like to reach a staggering $84 billion.
The airlines are not currently feeling any relief, therefore. Far from it. On the one hand, their overall financial situations are extremely worrying. On the other, operating conditions remain extremely complicated in the cargo business. "Governments need to continue to ensure that vital supply lines remain open and efficient," de Juniac warned. "While many have responded with speed and clarity to facilitate the movement of cargo, government red-tape—particularly in Africa and Latin America—is preventing the industry from flexibly deploying aircraft to meet the demands of the pandemic and the global economy."