The downturn in activity is confirmed on the world air cargo scene, with a fall of 9.7% in July year-on-year. European airlines are the hardest hit by the slowdown.
The demand for air freight continues to fall, having already suffered a year-on-year decrease of 4.3% in the first half of 2022. In July, traffic decreased by 9.7% compared to July 2021, and even fell by 10.2% for international operations, reveal the latest statistics published by the International Air Transport Association (IATA). Admittedly, 2021 was a period of strong rebound. Nevertheless, traffic is down by 3.5% compared to the pre-pandemic level of July 2019. On a seasonally adjusted basis, July's traffic also shows a 2.3% month-on-month decline, reversing the slight improvement in May and June.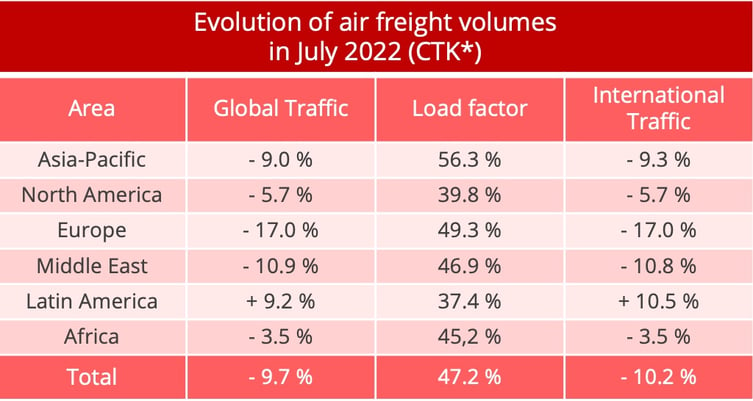 * FTK: freight tonne-kilometres - Data source: IATA.
European companies in a nosedive
Geographical analysis reveals an almost general decline. Only Latin American airlines are proving to be the exception, however they represent only a very small market share. Among the world's three main markets, European companies are the most violently affected. In addition to the general economic downturn, they are suffering the full consequences of the war in Ukraine, which is aggravating inflation on the Old Continent and affecting air operations. On the one hand, some airlines have been directly affected, with Ukraine and Russia having important players in the field of air cargo. On the other hand, reciprocal overflight bans and additional fuel costs have disrupted activity on the key Asia-Europe corridor.
Asian companies are also struggling, despite an easing of measures to combat Covid-19 in China compared to the spring. According to IATA, there has indeed been a recovery in volumes, but this has mainly benefited maritime transport. It must be said that, at the same time, sea freight rates have begun to decrease, which reduces the competitiveness of air freight. Companies in the Middle East, which depend heavily on healthy traffic between Asia and Europe, are also suffering.
The situation is a little more comfortable for North American companies. Traffic is still decreasing in July, but to a lesser extent than June's fall.
Downward pressure on freight rates
The downturn in demand comes in a context of increased capacity. Admittedly, air cargo supply remains below pre-pandemic levels (-7.8% in July 2021 compared to July 2019). But compared to July 2021, capacity increased by 3.6% overall and by 6.8% on international routes. As a consequence, the erosion of the load factor is continuing, standing at 47.2% compared to 54.4% a year ago. Internationally, it even fell by almost 10 points, from 62.8% to 53%.
The growing supply in conjunction with falling demand is driving freight rates down on major routes such as Asia-Europe, nevertheless, levels everywhere remain significantly higher than in 2021. A trend that, according to initial figures, seems to have been confirmed in August.
Source: Upply
Threat to the peak season
Despite these discouraging developments for the air cargo industry, IATA is showing some optimism. "At this stage, the July results should not be seen as the starting point for a new down cycle. The easing of restrictions in China and reduction of disruptions to global supply chains are likely to bolster global trade and air cargo volumes in the coming months," IATA said.
However, a cloud is hanging over the next peak season. First of all, with regard to the pandemic situation, the air cargo industry is still at the mercy of possible new waves and, above all, the rather brutal shutdowns caused by China's Zero Covid policy. In early September, the authorities announced new lockdown measures, in particular in Chengdu.
Secondly, high inflation and a sharp rise in interest rates will undermine the buoyancy of demand. The manufacturing indicator for new export orders declined in the first half of 2022, with in particular large falls in Germany and the United States, but also a reversal of the trend in China. Historically, there has been a strong correlation between this index and air cargo vitality. In the short term, therefore, market sluggishness is expected to continue.
Finally, while air freight has become more competitive with maritime transport over the past two years, access to maritime capacity is no longer as problematic as demand calms down. Freight rates are beginning to suffer, and it is therefore possible that the maritime freight industry will regain its position.
"The July data shows us that air cargo continues to hold its own, but as is the case for almost all industries, we will need to closely monitor economic and political developments in the coming months," said Willie Walsh, IATA Director General. The seriousness of the economic situation undoubtedly puts into question the vigour of the next peak season.