Global growth forecasts for 2023 and 2024 remain well below pre-pandemic levels. The volume of world trade will be considerably affected by this.
In the headquarters of companies, it is time to review the 2023 budgets and prepare those for 2024. This is a very delicate exercise in the current context, as illustrated by the discrepancies in the economic forecasts prepared by the major international institutions.
More pessimistic forecasts for 2024
According to the World Bank, global growth is forecast to slow from 3.1 percent in 2022 to 2.1 percent in 2023. Admittedly, this assessment is a little more optimistic than the one established in January 2023, which reported growth of 1.7% for the current year. However, this slowdown has far-reaching consequences, particularly in emerging and developing market economies. On the other hand, the slight improvement in forecasts for 2023 does not mark the beginning of a real rebound since forecasts have been revised downwards for 2024. The World Bank estimates, in its updated forecast for June 2023, that global real GDP will grow by 2.4% in 2024, instead of the 2.7% anticipated in last January's forecast.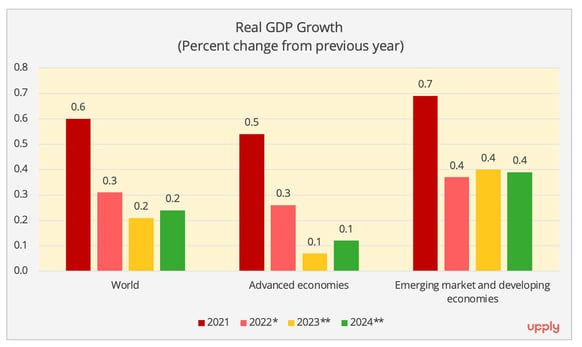 *Estimate; **Forecast – Data source: World Bank, June 2023.
The GDP growth estimate in advanced economies rises from 0.5% to 0.7% for 2023, but has fallen from 1.6% to 1.2% for 2024. The United States will benefit from higher growth than originally forecast in 2023, with a rise of 1.1%. On the other hand, the GDP growth rate is expected to fall to 0.8% in 2024, instead of the 1.6% suggested in last January's forecast. For the Eurozone, the World Bank estimates a growth of 0.4% in 2023 and 1.3% in 2024. These forecasts are much more pessimistic than those of the European Commission, which puts forward figures of +1.1% and +1.6% respectively.
Emerging and developing market economies
For 2023, the forecasts have been revised upwards quite significantly, to +4% against the +3.4% forecast last January. This is mainly due to a favourable reassessment of the outlook for China (+5.6% instead of +4.3%), but also to a significantly lower expected recession in Russia (-0.2% instead of -3.3%).
For 2024, the GDP growth rate estimate has been reduced to 3.9% for emerging and developing market economies, 0.2 percentage points below what was announced in January.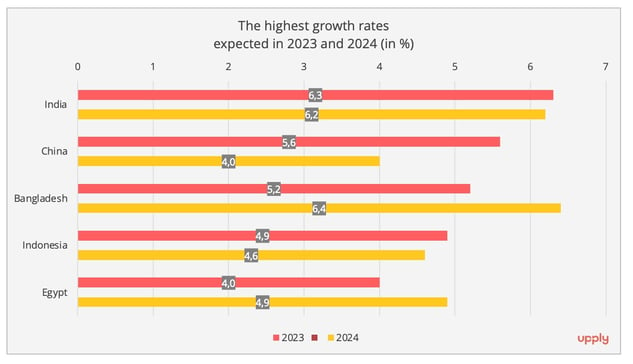 **Forecast – Data Source : World Bank
The International Monetary Fund and the OECD are more optimistic. The OECD, in its updated forecast for June, announces global growth of 2.7% in 2023 and 2.9% in 2024. As for the IMF, which published its latest update last April, it forecasts that global growth will reach its lowest level at 2.8% this year, before recovering slightly to 3.0% in 2024. "The slowdown is concentrated in advanced economies, especially the euro area and the United Kingdom, where growth (also fourth quarter over fourth quarter) is expected to fall to 0.7 percent and –0.4 percent, respectively, this year before rebounding to 1.8 and 2.0 percent in 2024", says the IMF.
Underlying threats
If they sometimes differ on the figures, the international institutions agree on one point: the extremely fragile and uncertain context. Admittedly, the world economy seems to be gradually recovering, after suffering the impact of the pandemic and Russia's war in Ukraine. The IMF lists several positive factors, such as the reopening of the Chinese economy, the regained fluidity of supply chains and the lull in energy and food markets. Yet the Washington institution sees it as an improvement on the surface, while "below the surface, however, turbulence is building."
On the inflation front, there has been a gradual decline in price increases, both in the United States and in Europe, as China is experiencing an unprecedented surge.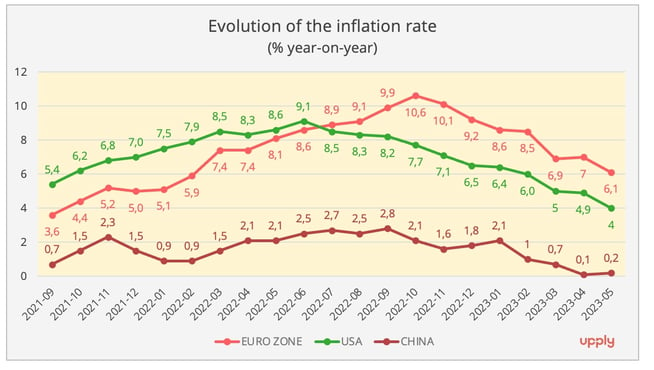 Data sources: Eurostat, US Labour Department, National Bureau of Statistics of China.
However, the price increase is proving to be more stubborn than expected. According to the IMF, global inflation will decline, but more slowly than initially expected, from 8.7% in 2022 to 7.0% this year and 4.9% in 2024. Above all, as the OECD also points out, the decrease is mainly due to the decline in energy prices. Core inflation, which excludes food and energy, "remains stubbornly high", the OECD notes.
The tightening of monetary policies over the past 12 months has undoubtedly yielded results in the fight against inflation. But it also carries threats. "The impact on economic growth could be stronger than expected if tighter financial conditions were to trigger stress in the financial system and undermine financial stability", analyses the OECD. "We are therefore entering a perilous phase during which economic growth remains low by
historical standards and financial risks have risen, yet inflation has not yet decisively turned the corner", summarises the IMF.
A recovery that mainly benefits services
Another factor to be taken into account in the business outlook: the recovery observed since the beginning of 2023 seems to benefit services more than goods. Of course, improvements in services may lead to an increase in some flows, but overall trade growth is expected to remain weak, the OECD warns.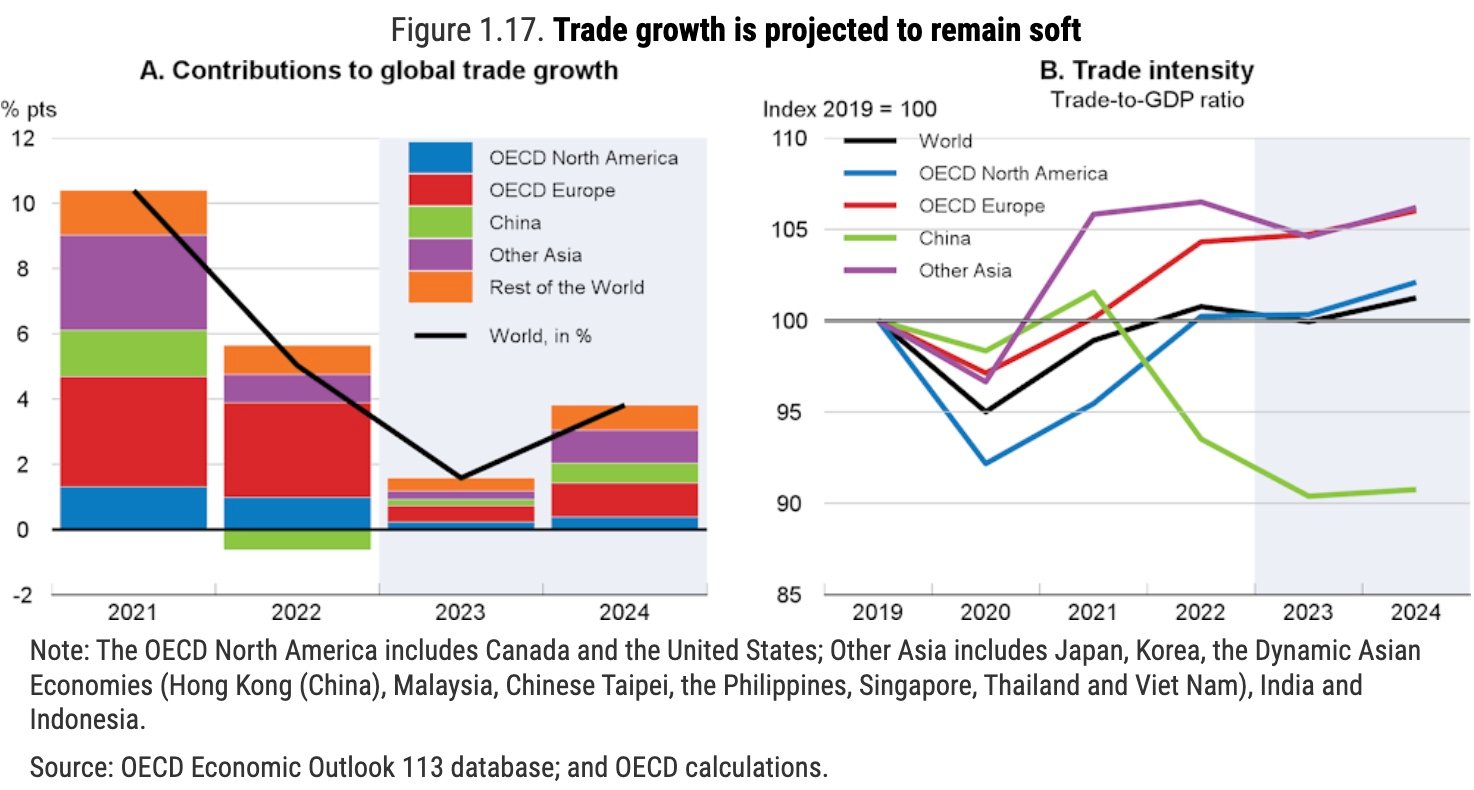 The World Trade Organisation forecasts a 1.7% growth in world goods trade in 2023, which represents a fairly sharp deceleration from the +2.7% recorded in 2022. "Trade continues to be a force for resilience in the global economy, but it will remain under pressure from external factors in 2023. This makes it even more important for governments to avoid trade fragmentation and refrain from introducing obstacles to trade," WTO Director-General Ngozi Okonjo-Iweala said. In other words, the prospect of a rebound in the second half of 2023, highlighted by international transport operators since a while, is becoming increasingly remote. Hopes are now placed in 2024. The WTO expects trade growth of 3.2% next year, but has several reservations. "This estimate is more uncertain than usual due to the presence of substantial downside risks, including rising geopolitical tensions, global food insecurity, the possibility of unforeseen fallouts from monetary tightening."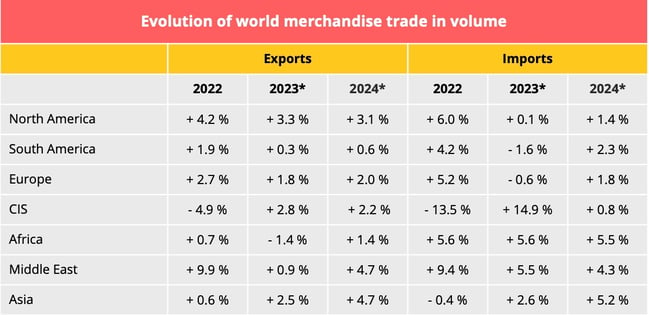 Source : WTO
UNCTAD is also rather pessimistic in the latest update of its forecasts, published on 21 June. In the first three months of 2023, trade in goods rose by 1.9% compared to the last quarter of 2022, an increase of around 100 billion dollars. This growth was fuelled by the recovery of economic activity in China, and by an increase in demand for road vehicles and pharmaceutical products. But estimates suggest a slowdown in growth for the second quarter of 2023, and "overall, the outlook for world trade in the second half of 2023 is pessimistic, as negative factors dominate positive ones", says the UNCTAD report.
A now significant impact on all transport prices
The stagnation of the world economy is affecting international transport prices. Maritime freight rates have returned to pre-pandemic levels on almost all corridors. Air freight rates have also now started to fall sharply, to the point that IATA has revised downwards the forecast of turnover of the cargo activity in 2023 .
Prices for road freight transport in Europe also rose during the Covid recovery period, but to a much lesser extent compared to maritime or air transport. They had also held out against the decline for longer, but are now caught up in this trend. Spot rates, which are by definition more exposed to market upheavals, had begun their decline as early as the 4th quarter of 2022. But in the first quarter of 2023, the decline also spread to contractual rates, while that of spot rates increased, indicates the latest survey by Ti/Upply/IRU.
This trend is expected to increase further. The European economy had a more favourable start to the year than expected, but the situation is far from being stable. Persistence of core inflation has emerged as a key risk. "It could continue restraining the purchasing power of households and force a stronger response of monetary policy, with broad macro-financial ramifications. Moreover, a surge in risk aversion in financial markets, following the banking sector turmoil originated in the US, could prompt a more pronounced tightening of lending standards than assumed in this forecast", the European Commission points out in its Spring 2023 Economic Forecast.
At this mid-year point, it is now clear that the economic rebound, whether on a European or global scale, will have to wait until at least 2024.