In 2022, both air and sea traffic suffered from the slowdown in the Spanish economy in the course of the year, as well as from the international economic climate.
Maritime and air cargo transport in Spain have very different characteristics. Spain is a major player in the European port sector but not in air freight, even though it has good passenger flight connections and a strong tourist industry. On the other hand, the two sectors have followed a rather similar trend in 2022.
I. Port traffic in 2022 : resilience the watchword
According to figures from Puertos del Estado, the state body which oversees Spanish sea ports[1], Spain's ports handled 548 million tonnes (MT) of cargo in 2022, 3% more than in 2021. This result is nevertheless slightly less than the record 525 million tonnes achieved in 2019. The gap will probably not be closed either in 2023, since figures for the first four months of the year show that traffic was down 1.9% on the previous year.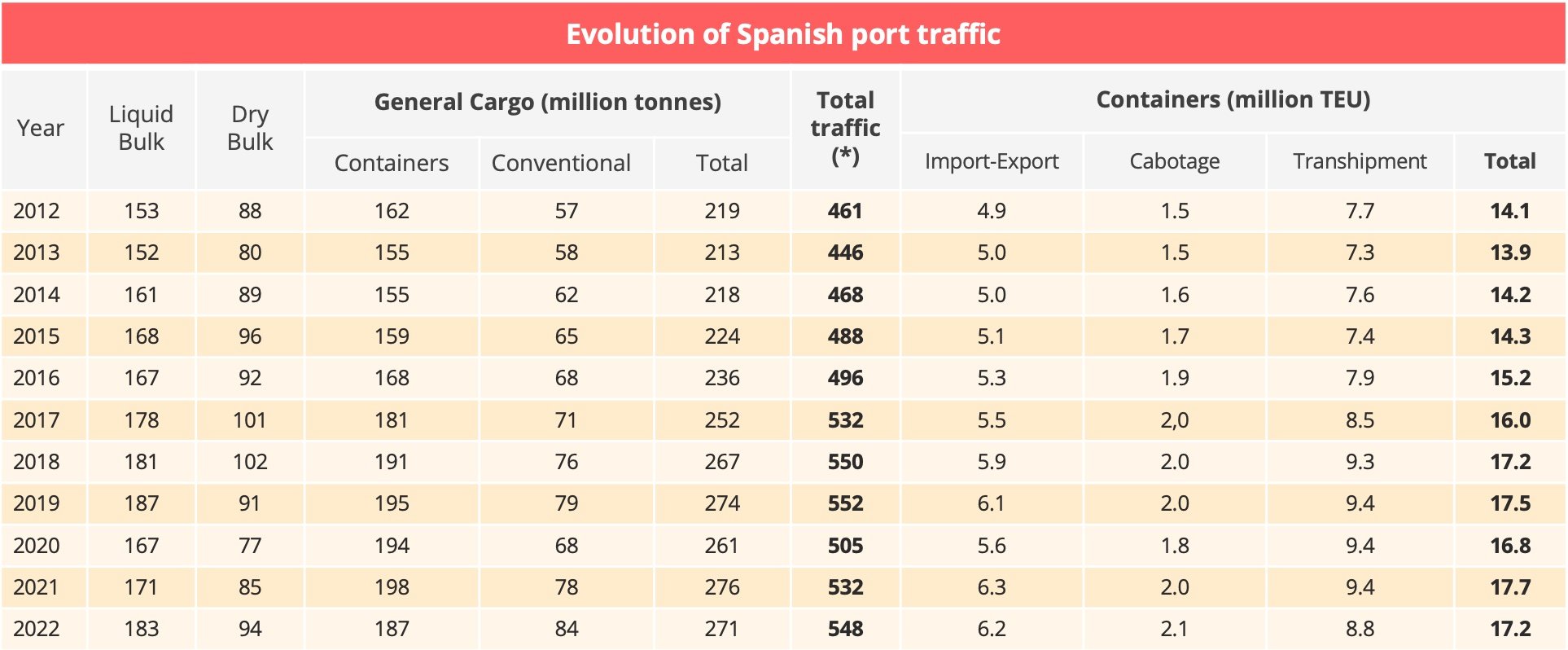 (*) Bunkering, fishing and domestic traffic are not included. Data source: Puertos del Estado.
1. Contradictory trends
The traffic increase registered in 2022 hides two contradictory trends:
An increase in bulk traffic, with liquid bulks up 7% at 183 MT and dry bulks up 11% at 94 MT, mainly due to the war in Ukraine and changes in the world energy supply pattern. These phenomena affected energy products - LNG traffic was up 40%, crude oil 12%, petrol 18% and coal 72% - but also agri-food products like cereals, volumes of which rose 40%.


General cargo, which accounts for half of all Spanish port traffic by volume, fell back 1.8% to 271 MT. Container traffic was affected by this trend. In 2022, Spain handled 17 million TEU, a good total in itself but one which was 2.8% down on the 2021 total, following a 6.3% reduction in transhipment traffic to 8.8 million TEU. Export-import traffic fell 1.6% but nevertheless settled above the 2019 total of 6.1 million TEU.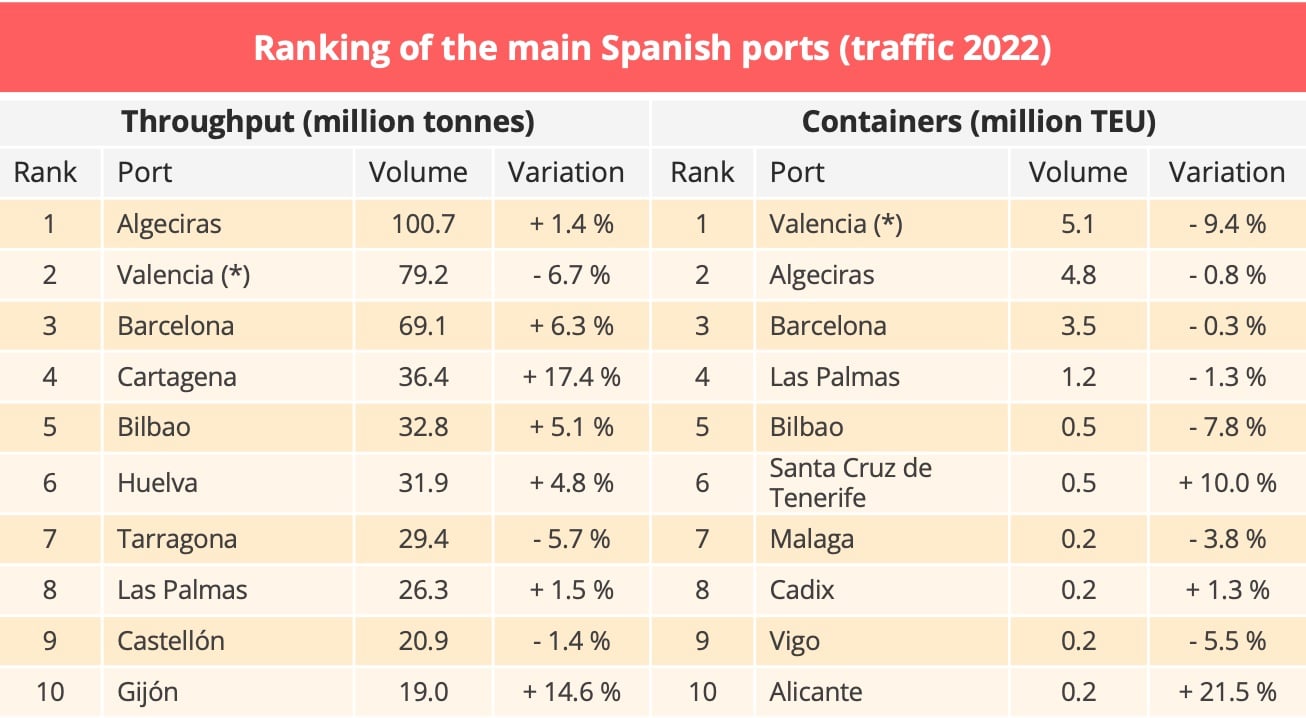 (*) Includes Sagonte. Data source : Puertos del Estado.
The rankings of the three leading Spanish ports have not changed. Algeciras handled more than 100 MT again, ahead of Valencia and Barcelona. These three Mediterranean ports account for 45% of all Spanish port traffic. After them come Cartagena with 36.4 MT, Bilbao with 32.8 MT, Huelva with 31.9 MT and Tarragona with 29.4 MT.
In the container sector, Valencia is still the leader, ahead of Algeciras and Barcelona. Spanish ports remain well placed in the European top ten, since these three ports lie in fourth, fifth and eighth position. Valencia comes just after the three big ports of the North European range - Rotterdam, Antwerp-Zeebrugge and Hamburg.
2. Transhipment trend change
The marked fall in transhipment traffic was one of the main developments in 2022. It can be explained by several different factors - the slowdown in world trade, which looks set to continue in 2023, the disruption of world maritime trade, competition from neighbouring ports and the strategies of the leading shipping companies.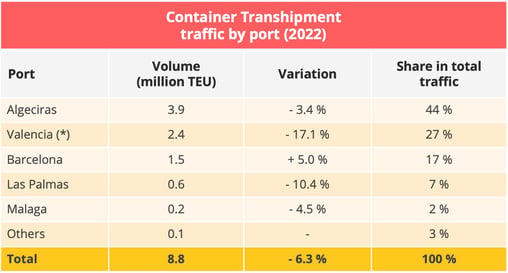 (*) Includes Sagonte. Data source : Puertos del Estado.
The decline in transhipment traffic particularly affected the port of Valencia, which saw its transhipment total drop 17.1% to 2.4 million TEU. It had much less impact, however, on Algeciras, which saw its transhipment total reduced by 3.4% to 3.9 million TEU. Barcelona, on the other hand, more than held its own, registering a 5% increase in throughput to 1.5 million TEU. Valencia alone absorbed more than 80% of the overall reduction, a result that the port authority attributed to congestion and an increase in waiting time for vessel loading and unloading operations. Traffic diverted, mainly by MSC, went to Tanger Med, Gioia Tauro and Barcelona.
The statistics available for 2023 so far show that transhipment traffic fell 13% worldwide. This reduction affected the three leading Spanish ports, with traffic down 2.3% at Algeciras, 15.4% at Valencia and 24.7% at Barcelona.
These figures show a clear change of trend. After having progressed from 5.2 million TEU in 2005 to 9.4 million TEU in 2019, transhipment traffic settled at this level for the two following years (2020 and 2021) before falling in 2022 and continuing to do so in 2023.
According to industry professionals, this situation is not the result of any disaffection on the part of the shipping companies but of the appearance of a new situation. During the 2000s, Spanish ports had a leading position in the Western Mediterranean. This is no longer the case, following the emergence of Tanger Med[2], investment in Portuguese ports, particularly Sines, and the Greek port of Piraeus, the revival of activity in the port of Gioia Tauro and MSC's plans at the port of Genoa[3]. Other new projects are due to get under way in the Maghreb and at other Mediterranean ports.
The existence of "neighbouring ports" has given the shipping companies greater flexibility to change their itineraries - which is the reason for the volatility in the transhipment business - and develop alternative feeder and multi-modal services. The shipping companies invested in cargo-handling and, subsequently, onshore logistics (railways, dry ports and warehousing) as part of an effort to develop door-to-door services. From this point of view, Spain is a laboratory for testing the shipping companies' new strategies.
New port management methods have even appeared. APM Terminals, for example, has brought its activities in Algeciras and Tanger Med into a single business unit, enabling it to develop the synergies between them. MSC, which is well established in Valencia, has spread out into new ports like Sines and Gioia Tauro. The main concern of the Spanish port authorities is that the instability in the transhipment business could affect import-export traffic. Transhipment generates less local added value but brings a high level of connectivity, which gives ports a major competitive advantage.
3. Algeciras and Barcelona : two different responses to the crisis
In the new international situation, we see that adaptation strategies are being implemented and that the implementation of these strategies has recently speeded up.

Data source : The Algeciras Bay Port Authority (APBA).
The port has diversified its non-transhipment activities as a means of maintaining its competitivity in relation to Tanger Med. In 2022, its full container international transhipment traffic fell 6.6%, whereas import-export traffic rose 7.2%. We can note, moreover, that this growth mainly concerned imports. The Andalusian port has started specialising in perishable products from Latin America, taking advantage of the short transit time it is able to offer for these goods. CMA CGM's MEDCARIBE service, for example, offers a transit time of 12 days to bring Costa Rican pineapples from the port of Moin to Algeciras.
What distinguishes Algeciras is also that it has developed transhipment to other Spanish ports (+5.5% in 2022). The shipping companies use the port as a redistribution platform via feeder services and intermodal services. One example of the latter is the reefer rail service to the port of Marin in Galicia, which was started by Maersk in January 2022. Figures for the first four months of the year show a 17.1% in national transhipment traffic.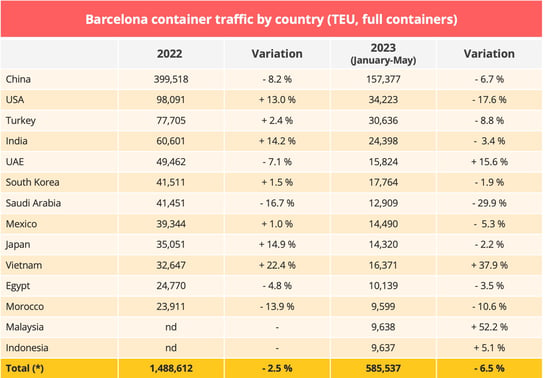 (*) Includes countries other than those listed in the table. Data source : Port Authority of Barcelona.
Barcelona is an example of a port adapting to the reorganisation of global supply chains by reducing its dependence on China in favour of other Asian countries. In 2022, Barcelona's full container traffic to and from China fell 8.2% last year but increased to and from other Asian countries like India (+14,2%), South Korea (+1,5%) and Vietnam (+22,4%), as well as to and from Turkey (+2,4%).
Figures for the current year so far confirm the trend. Traffic with Vietnam has shown a remarkable 37.9% increase, while traffic with other countries like Malaysia and Indonesia has moved up the rankings, with increases of 52.2% and 5.1% respectively. This diversification helped to soften the impact of the reduction in container traffic overall.
II - Air transport in 2022: airports emerge slowly from the crisis
Between 2010 and 2019, the freight traffic handled by Spain's 48 airports showed a steady and remarkable increase, rising from 652,713 tonnes (T) at the start of the period to more than 1MT at the end of it, according to statistics published by their public sector operator, AENA. The Covid-19 pandemic and the economic crisis caused a sharp reduction in 2020, when traffic fell 26% to 789,177T, lower than the 2016 total of 798,592T.
Since then, traffic has been struggling to recover. AENA statistics show that traffic rose 9.8% during the first five months of 2022. Growth slowed in the months after that, before falling back 10% year on year in the final two months of the year. Over the year as a whole, traffic was virtually stable. Certainly, it cleared the 1MT barrier again but it was still 6.5% down on its 2019 total.

(*) 48 airports. Data source : AENA.
The situation is not the same at all airports, however. The overall traffic total masks very different performances at different airports:
Adolfo Suarez Madrid-Barajas Airport saw its position strengthened. Certainly, 2022 was a disappointing year. After getting off to an excellent start, with traffic up 20.8% in the first quarter, traffic growth slowed in the months following and the final total for the year showed

an increase of just 8.2% to 566,37 T, just 1.1% ahead of the 2019 total of 560,039T.

Most importantly, however, Madrid is consolidating its leadership year after year. It accounted for 56.6% of all freight traffic at Spanish airports in 2022, four points more than in 2019, when its share of total traffic was 52%. At 65%, its market share is even greater in the key international traffic segment[4].


Difficulties in Barcelona. Traditionally Spain's second-ranking airport in terms of traffic, the Catalan airport saw its traffic fall 23% in 2020-2021, when it fell into third place in the rankings behind Saragossa. It experienced a marked recovery, however, in 2022, when traffic increased 14.3%, enabling it to return to second place in the rankings, even though its traffic total was still 12% down on its 2019 total.


Crisis at

Saragossa

. The great loser in 2022 was

Saragossa

, capital of the Aragon region, which saw its traffic slump 34.7% to 126,957T, taking it back into third position in the rankings. It paid the price for its dependence on the Inditex group (Zara, Oysho and Bershka), which closed its 502 shops in Russia. High freight rates to Asian destinations also persuaded the group to make greater use of ocean transport. The airport's traffic total in 2022 was 30.5% down on its 2019 total.


Vitoria confirms its success. Situated in the Spanish Basque country, Vitoria is the Spanish airport which fared best in 2022, when its traffic increased 1.5% to 73,629T - 14.2% more than in 2019. This strong performance is due to the presence of DHL Express which has chosen Vitoria as its main Spanish hub, with 28 flights daily and 18,000 deliveries an hour. The group has a 26,500 m² platform at the airport and employs 370 people there.


Modest performances elsewhere. Las Palmas Airport, which saw its traffic slip 0.3% to 15,794T, came fifth in the rankings, ahead of Valencia, which increased its traffic 8.4% to 13,788T, and Tenerife, which scored a 10.8% increase at 13,166T. Sixteen airports registered no freight activity at all last year.
Statistics for the first five months in 2023 were in line with 2022 results. They showed that traffic rose 5.5% overall to 87,583T, 2.1% more than in 2019. Madrid continued to progress, with a 13.1% increase in traffic year on year, an 18.6% increase over 2019 and a market share of 61%.
Barcelona recorded a 1.5% reduction in traffic and was still 7.6% short of its 2019 traffic peak. Traffic at Saragossa continued to fall, with a 12.7% reduction year on year and a 39.5% reduction in relation to 2019, while Vitoria's traffic fell back 3.2%. Twenth one airports registered no freight traffic at all during the first five months.
A modest European ranking, except for traffic with Latin America
Spain is well-placed in the European rankings for maritime freight, lying in second place for container throughput. Similarly in road transport, it lies in second position for international road freight transport. It is not well-placed in the air freight rankings, however.
The 566,373T traffic total of Madrid, its leading airport, does not bear comparison with the traffic totals of the leading European air traffic hubs. Throughput at Liege Airport at 1.1MT is nearly twice that of Madrid, while that of Leipzig is nearly three times higher at 1.5MT. Madrid is in 12th position in the European rankings, while Barcelona and Saragossa lie in 20th and 26th position.
These apparently unfavourable rankings should not be allowed to mask Madrid's fifth position among European passenger airports. It has good connections with Latin America and offers foreign trade operators significant freight capacity aboard its passenger flights. In 2022, it was European leader for freight traffic between European and Latin America, with a market share of 19.5%.
In November 2022, IAG (Iberia and British Airways) announced that it was increasing capacity between Madrid and Latin America. The group offers flights to 33 destinations in Latin America and the Caribbean, compared to 25 in 2019, and 400 weekly services between Europe and Latin America. It has positioned itself on the perishable products segment of the market (flowers, tropical fruit, pharmaceutical products) and offers a "constant fresh" service, under which it provides controlled temperatures throughout the journey from one distribution hub to another. The aim is to make Madrid the leading point of entry in Europe for Latin American products and to encourage forwarders and European logistics operators to use the airport as a hub for exports to Latin America.
Developments among carriers
In 2022, DHL subsidiary EAT consolidated its leadership on the Spanish market with a 6.8% increase in traffic, which took its market share to 16.3%. Iberia lost ground but the biggest reduction in traffic was recorded by Qatar Airways. Air Europa, on the other hand, confirmed its success by virtually doubling its traffic and moving up to fourth place in the rankings. Behind it were Swiftair and Emirates, virtually at level pegging with 51,988T and 51,632T respectively.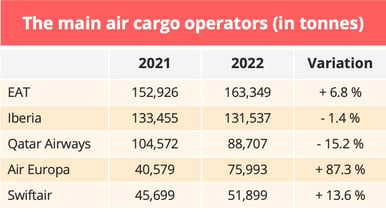 Data source : AENA
Performances varied, however, from one airport to another:
At Madrid, Iberia had a clear lead with a traffic total of 125,626T (-3.8%), ahead of Air Europa (66,353T) and EAT (54,237T). Among its five leading Latin American destinations were three Latin American capitals - Mexico City, Lima and Bogota.
At Barcelona, ASL Airlines Ireland (20,648T, +22,3%) was the leading transporter, ahead of EAT (19,683T, -4,9%), UPS (15,266T, -2,2%) and Turkish Airlines (12,900T, -10,2%).
At Saragossa, Middle Eastern companies were the leading carriers : Qatar Airways (50,787T, -20,9%) and Emirates (22,049T, -11,1%).
At Vitoria, EAT was the leading operator (67,863T,+1,5%), thanks to its regular flight to the Leipzig freight hub.
Internationalisation inevitable
In the current uncertain climate, the future of sea and airport traffic depends on a continuation of the international process already under way. Long considered a country on the periphery of Europe, Spain can take advantage of the transfer of the centre of gravity of the world economy towards new regions with strong development potential. These include Latin America, of course, but also the Mediterranean, particularly the Maghreb, and Africa. The increase in transhipment traffic at ports like Algeciras and Valencia was the result of their proximity to the route taken by container ships between Asia and Northern Europe through the Gibraltar Strait. In Algeciras's case, ships do not even have to deviate from their route.
This potential needs to be harnessed, however. In the port sector, the arrival of competitors means that the Spanish ports need to take action to improve their competitiveness, digitalise their service and decarbonise. Plans to create air freight "digital corridors" between Spain and America are a good example of value-adding innovation by the sector's operators[5]. Success in these areas depends more than ever on the mobilisation of all parties in the ecosystems concerned.
---
[1] Spain has 8,000 kilomètres of coastline and 46 sea ports, managed by 28 different port authorities.
[2] After being brought into operation in 2007, Tanger Med handled 7,6 million TEU in 2022 (+6%) and is now the number one container port in the Mediterranean.
[3] The group plans to increase its cargo-handling capacity to 2 million TEU, making Genoa a rival to some extent of the leading Spanish ports.
[4] See the annual report of Foro MADCargo.
[5] A first corridor was set up between Madrid and Montevideo airports in May 2022.